Womail Planting mainly deal with business of Landscape Plant,Flowers plants,Fruit trees export trade.We can meet your large order, if our website without you need to plant,we will help you find you need of plants.
Detailed information of fruit trees
Myrica Rubra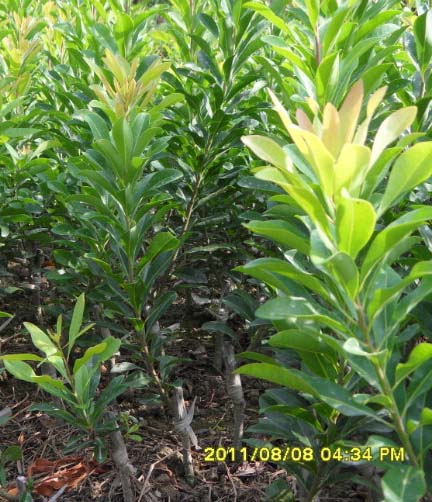 Scientific classification
The Myrica Rubra belongs to the family of Myricaceae, native to China and can be planted in warm areas as the ornamental. The fruits are red when ripe which are lovely. It is a good ornamental fruit tree. It is suitable for clump planting and growing on the road side, law or used to divide spaces. It can act as a green wall for shelter. It is the best choice for greening projects for the factories or mines, as well as sound insulation in the cities. The fruit is ball-shaped, 10~15mm in diameter, with small verrucous protrusions. The fruits are dark red, purple-red or white in color when ripe and have a sweet-sour taste. This unique fruit from southern China has enjoyed a high reputation in the world.
The Myrica Rubra has high nutritional value and is a kind of natural health-care food. It can be used for a wide range of purposes with a great market potential. In addition to eating fresh, it can be processed into sweet canned products, jam, glazed fruit, juice, dried fruit, fruit wine, etc. Thus, the added values of the product have been increased several-fold.
Varieties Introduced :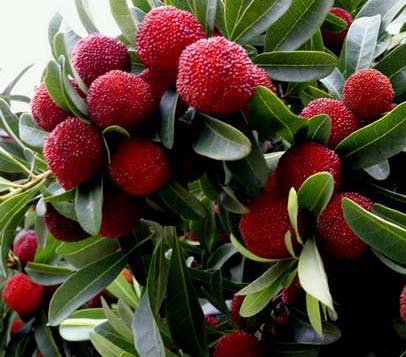 Dongkui Myrica Rubra : The tree grows vigorously with a high and large crown. It is 24g for a single fruit weight and 42g to the most. The fruit is purple-red or red with thick protrusions. It is moderately sweet and sour of excellent quality.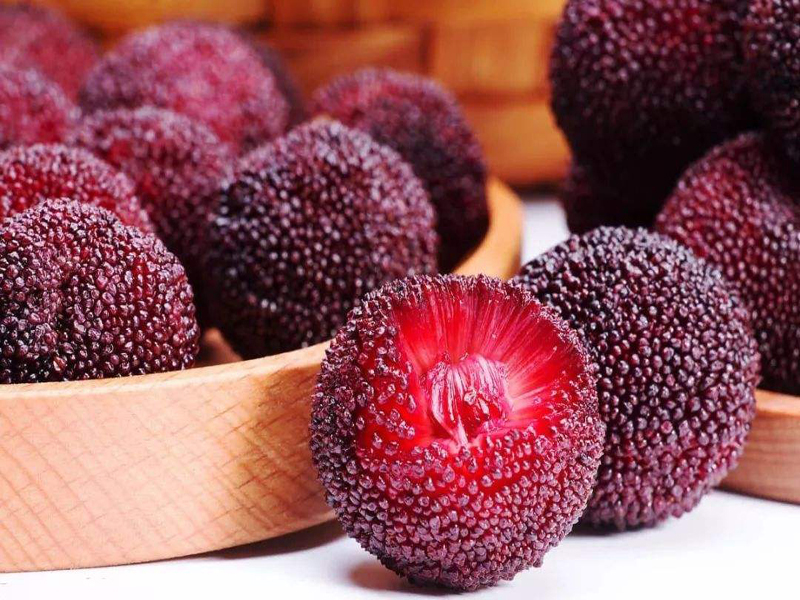 Biqi Myrica Rubra(NEW ARRIVALS) : Biqi Myrica Rubra is shorter straw cultivar,it's mature period in mid-june to early July.Black-purple when mature,fruit small,weighing about 9.5 grams,fruit pit small,but the quality is very high,soft flesh pulp,juiciness,sweet taste,slightly aroma,the pulp and the fruit pit is easy separation,contain soluble solid content as high as 13%,edible rate as high as 96%.
It is not easy to take off the fruit,has the very high wind resistance when ripe,excellent storage capacity, harvest time for 20 days,suitable for fresh food and juice, canned processing,wide application.And anti-cancer oncosis and leaf spot, High commercial value.High yield,stable yield,the average production more than 400KG per tree.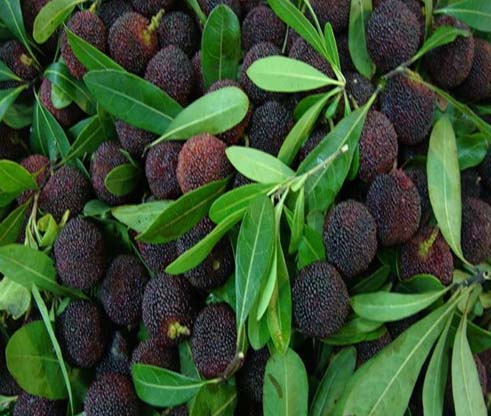 Black Peak Myrica Rubra : The attract worldwide attention Myrica Rubra new variety . Big Fruit,Black Color, Hard Pulp,Good Taste. The Black Peak Myrica Rubra Tree is a new species grown in our nursery. These fruits are able to endure a long time of storage.It is considered the nonesuch among all kinds of all Myrica Rubra.
1).The fruit particularly large,than Dongkui Myrica Rubra larger ,68g to the most. It's the largest variety in Myrica Rubra currently.
2).The color particularly black,very like coal when ripe.
3).The pulp is particularly hard, not easy to be damaged.And the fruit is particularly resistant to storage,the natural keep fresh lengthen out to 7 days,not change color, not taste, not rot.For the farmers, the dealer is a good thing!
4).They are fertile with steady productivity.
5).The development of Black Peak Myrica Rubra Tree is a golden market and it can bring considerable economic benefit with boundless prospects!
Ding'Ao Myrica Rubra : The tree grows vigorously with sparse branches. The fruit is big and is 15~18g for a single fruit weight. It is purple-red and the pulp is thick, soft, juicy and sweet. The kernels of this first-rate fruit are very small.
WuSu Myrica Rubra : This variety is of high quality and has been selected out in recent years. The purple-black fruit is big and is 16g for a single fruit weight. The pulp is thick, soft, juicy and sweet. The kernels of this first-rate fruit are very small.